The wondrous 13th Element of the periodic table (AI), aluminium is both an incredibly strong and reliably durable metal, especially given its remarkably light weight. When successfully extruded into our shutter blades and frames – which are also entirely moisture sealed and impervious to insect attack – Element 13 aluminium shutters are the perfect solution for all indoor and outdoor applications, making it ideal for wet/rainy conditions.
In addition to the reliable strength of our aluminium blades and frames, all of our Element 13 products are finished with Interpon Powder Coating by AkzoNobel.
The global leader in powder coatings and parent company of Dulux, AkzoNobel coatings are 100% solvent-free paints currently used on world landmarks that include:
The Bird's Nest Stadium and Water Cube (Beijing)
All Major Premier League football stadiums in the U.K
The Maracanã Stadium (Brazil)
The Yas Marina Circuit Grand Prix complex (Abu Dhabi)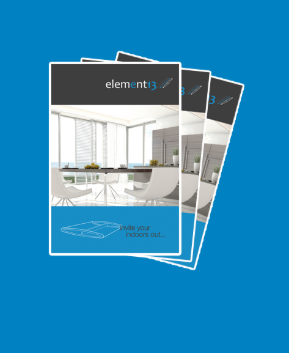 Element 13 Aluminium Shutters Features:
Ideal for wet rainy conditions
Your choice of 64mm, 89mm & 114mm louvres
Spans of up to 1500mm wide
Stainless steel hardware
Raked shapes options
Bolts and keyed locks options
Fly screen option and door handle option
AkzoNobel Interpon Powder Coat
4X standard powder coated colours
DULUX Colourbond colours available
2X timber look colours (optional)
Custom paint (optional)
Both fixed and/or moveable louvres
Our 10-year warranty on all extrusions and components
Our 10-year warranty on paint finish

Become a Dealer
Join us as we offer the highest quality, widest range of shutters and blinds at the very best wholesale prices!